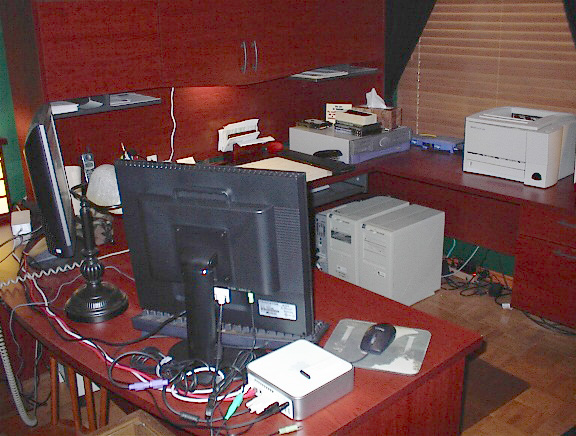 Foreground left: An Apple Mac Mini. It runs Mac OS X Version 10.5.4 (Leopard). It has an Intel 1.66 Ghz Core Duo processor, 1 GB RAM, 100 GB SATA drive, and a superdrive (CD and DVD burner). It is connected to a 19" LCD monitor. I got it to learn more about Mac's, especially since they run Unix now. It, along with possibly a linux desktop, will replace Windows.
Left of hutch, under desk: A PC a friend put together for me. It runs Microsoft Windows XP Pro. It has an AMD 1800 XP processor, 1 GB RAM, two 60 GB mirrored IDE drives, CD-burner, DVD-ROM, 3.5 floppy, integrated GeForce graphics, sound, and 10/100 Mb Ethernet. I use it a lot for desktop publishing and web stuff. Currently I have the Adobe Printing and Publishing Collection (PageMaker 7.0, Illustrator 10, Photoshop 7.0, Acrobat 5.0), Macromedia Homesite 5, and Microsoft Office XP Pro. A 19" flat-panel monitor completes the system. This system will eventually be replaced by my Mac Mini and some form of linux desktop.
Right, underneath hutch: A Sun Microsystems SunBlade 100 workstation. It runs Sun Solaris 9 9/04 (Unix). It has a Sparc IIe 500 Mhz processor, 1.2 GB RAM, two 60 GB mirrored IDE drives, CD-ROM, 3.5 floppy, smart card reader, integrated graphics and 10/100 Mb Ethernet. Currently it hosts my domain, vmbear.com.
On floor, underneath SunBlade: Two Dell Pentium 500's, spares from work. The left one runs Fedora Core 1 (Linux). It acts as a backup server for my SunBlade, and also holds my MP3 collection. The right one is not currently in use, but I will eventually install either the latest versions of Fedora or Ubuntu Linux. Recently added but not pictured: A Sun Microsystems Ultra 10 workstation running Solaris 10. Used for learning new features of Solaris 10.
Printer: An HP 2200DN LaserJet with a Jet Direct card and 40 MB RAM.